Empower email senders to achieve more
Postmastery is dedicated to helping senders maximise
their email performance and deliverability with a range of software,
tooling and consulting solutions.
WHO IS POSTMASTERY
Leading Global Email Professionals
Maarten Oelering, Willem Stam, and Jérôme Gays have been prominent members of the email industry since 2000 and now lead the business. Alex Irimia, Olivier Moulene, Syed Alam and Yves-Marie Le Pors-Chauvel are also part of our team; they all come from an email background and boast extensive experience with a variety of MTA's and deliverability. Together they provide delivery assessments and support for email operations.









WHY POSTMASTERY
Empower Email Senders
to achieve more
Comprehensive solutions
Postmastery offers comprehensive deliverability consulting services and software solutions including Postmastery Console to ensure that all aspects of an email infrastructure are setup are properly configured, including MTA and ESP configurations, hosted marketing solutions, list management, hygiene and more against best practices and provide you meaningful actionable insight and advice to mitigate against any delivery issues.
Vendor Agnostic
Extensive experience with a wide range of sending environments and vendors. Offering a range of services and solutions across a range of one premise solutions including PowerMTA, Postfix, GreenArrow, Halon and SMTP solutions like SendGrid, Mailgun, Ongage SMTP and Amazon SES.
Proven track record
Postmastery has a proven track record of success when it comes to improving the email deliverability rate for businesses across multiple industries. We can help you achieve similar results with our expert advice and guidance.
24/7 solution
Our monitoring and alerting is available around the clock and we are always available to answer any questions you may have and provide assistance when needed in a timely manner.
Cost-effective services
Postmastery provides cost-effective deliverability consulting services that fit within even the tightest of budgets. No contracts to sign.
Experienced advisors
Postmastery's team of experienced advisors have over a decade of experience working together in improving email deliverability, helping you optimise your infrastructure, configuration and inbox placement.
WHAT IS POSTMASTERY CONSOLE?
Purpose built monitoring, reporting & alerting
solution for managing email infrastructure
and SMTP sending environments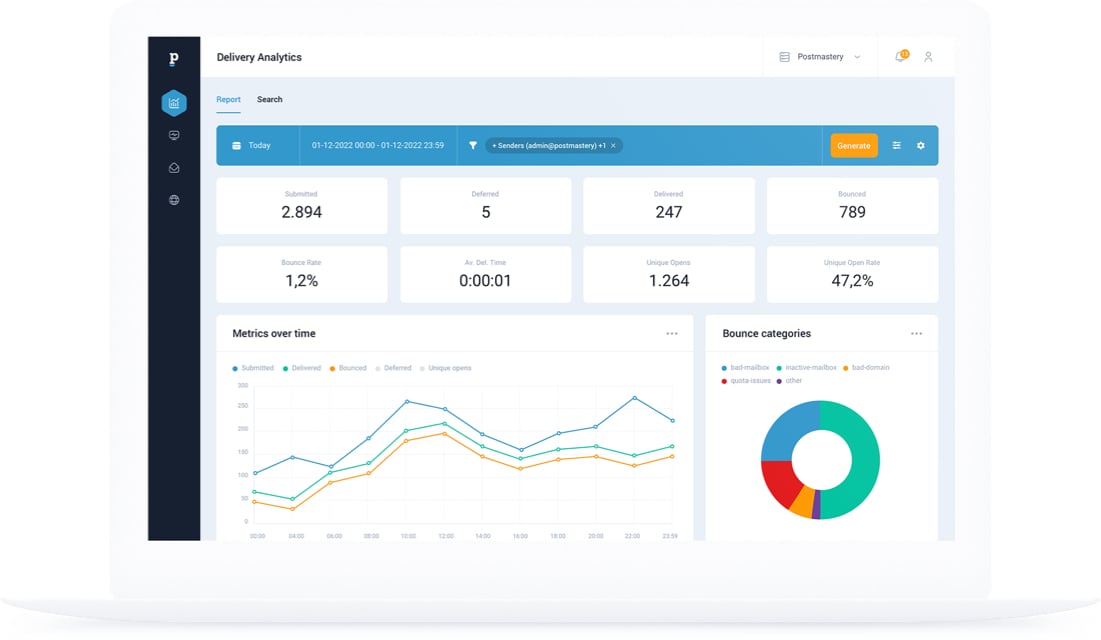 We offer the Postmastery Console, our SaaS solution – a comprehensive suite of powerful yet user-friendly real-time monitoring tools. Postmastery Console is an all-in-one email analytics dashboard that allows you to aggregate and track email delivery data from multiple sources in one
place.
With Postmastery Console, you can get detailed insights into your sending performance, detect any reputation issues in real time, and check how your emails are built against critical best practices. It also offers DMARC reports to help protect your domains from spoofing and phishing attacks. Postmastery Console helps you make smarter decisions about your email campaigns so that you can increase open rates, deliverability and click-throughs.
Get real-time insights into your sending performance with early alerting for any potential problems allowing you to take action at the right time. Postmastery Console offers tight Integration with your favourite MTA and service providers including MTA's like PowerMTA, Postfix, GreenArrow and Halon, as well as SMTP service providers including SendGrid, Mailgun, Ongage SMTP and Amazon SES.
At Postmastery we know that when it comes down it – success relies heavily upon working with trustworthy partners who understand both the technicalities as well as those intangible elements needed for success in today's digital landscape such as relationships & reputation building initiatives; this is why we are here - helping legitimate senders be recognized as trustworthy senders while optimising delivery rates throughout every step of your journey with us!
Trusted by companies where every email counts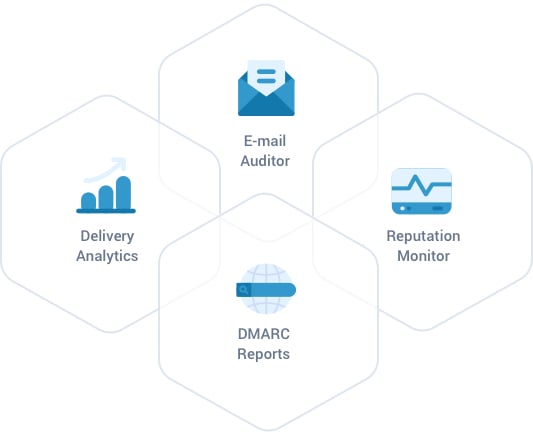 HOW WE DO IT
Offer you the best toolset & industry knowledge for a reasonable price
At Postmastery, we strive to help our clients increase their email deliverability and improve their performance across all aspects of the email cycle – from set up and integration through optimization and troubleshooting. As experts in the field, our mission is to equip our clients with best practices and approaches that will enable them to get maximum return on investment from their efforts our solutions often save more than they cost.
WHO WE WORK WITH
Working successfully with small business and enterprise alike
With a focus on innovation and customer satisfaction, we are committed to providing exceptional service and support for all of our customers across a wide range of verticals. We are proud to include Spotler Group, Moosend, Isoskele & Booking.com, Prodegde, Afas, Pastbook, Stoneshot and WIX as customers!
Our team of experienced professionals is dedicated to helping our clients maximise their email performance and deliverability. We provide full service support and training that covers MTA licensing, integration services, local support and delivery optimisation services. Combined with the power of Postmastery Console you have an unbeatable deliverability partner in Postmastery.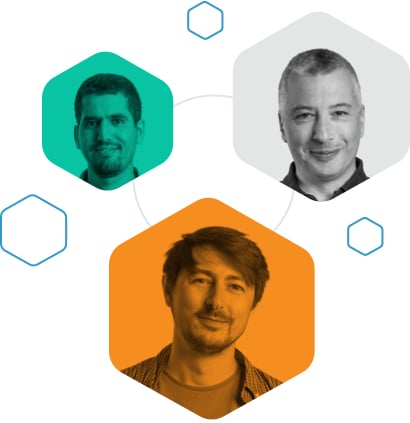 PARTNERS
Our partner network
Contact us if you would like greater insights to stay ahead of delivery issues.
---
---
Postmastery respects your privacy, we will never cold-call you or share your data with others.