Email systems with best-of-breed software and hands-on services
Postmastery is unique in its focus on email delivery infrastructure consulting and its vendor independence. Our role can be compared to a system integrator. We help with infrastructure design and software selection using your needs as a starting point. Then we setup and configure the system, until it's ready to deliver emails according to all known best practices.
Email Infrastructure Design
Whether you are a brand, a marketing agency, or an email service provider, we can help you find the right email solution. Our infrastructure experience is based on 15 years of technical leadership in email systems. We have worked with all top tier MTA (mail transfer agent) vendors and various email marketing software vendors, providing both low-cost and high-end enterprise solutions.

PowerMTA from Port25 is proven software for high-volume email delivery, and used by many ESPs. It is designed for optimal performance, manageability, and deliverability.

Inxmail offers license based, high-end email marketing 'front-end' and is acclaimed by marketing experts from all sectors for its simple operating concept and excellent performance.

Ongage offers an online email marketing front-end that is able to route emails to many different back-ends. You can mix and match different delivery service providers with your own on-premise email server.

Oempro from Octeth is a license based full-featured email marketing and auto responder software. You can either run your own email campaigns or provide email marketing services to your customers.
Postmastery is an authorised global channel partner of Port25 and a hands-on expert in PowerMTA. Based in the Netherlands, we can provide users in Europe, Middle-East and Africa with support in the Central European time zone.
> Read more about our PowerMTA services
Email Infrastructure Setup
Our setup services range from system integration to tuning for provider policies. So far we have setup more than 50 email systems, mostly based on PowerMTA. With our services you can avoid the pitfalls and start with a system that has all technical prerequisites for optimal deliverability.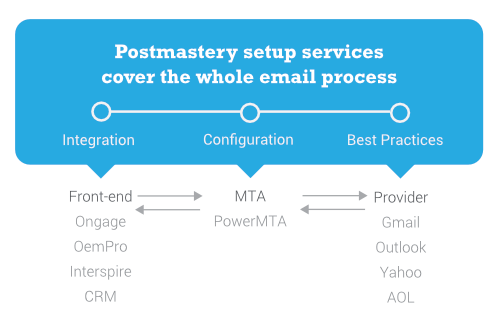 We also deliver on-premise systems turn-key, leaving nothing more than creating your campaign. After the setup our services for delivery monitoring and operational management will help you keep deliverability at the right level.