Get a 360 degree view on your email deliverability
Based on extensive experience developing email delivery reporting tools Postmastery created Email Delivery Analytics (EDA). This cloud based solution empowers email delivery teams with comprehensive email delivery intelligence based on information hidden in mail server logs and external reputation data sources. Email Delivery Analytics runs at Google scale and integrates smoothly with various mail platforms.
---
Would you like to improve email performance with real time delivery monitoring?
---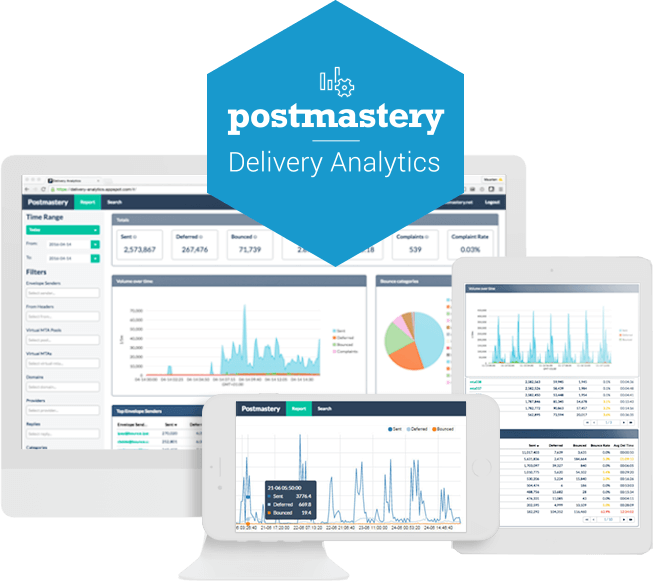 Product features
Multidimensional reporting
Email delivery data can be visualized from different perspectives, e.g. senders, IPs, domains, providers, etc.
Find individual deliveries
Each delivery, deferral or bounce is stored for 90 days. Find all events related to an email address in seconds.
Real-time delivery alerts
Get instant email alerts in case of high bounce rates from specific senders or to specific providers.
IP reputation monitoring
IP reputation is monitored using blacklists, Sender Score, and SNDS. Get alerts via email and view it in the dashboard.
No infrastructure needed
Running on Google Cloud, it's a truly zero-ops solution that scales from millions to billions/month and beyond.
High security standards
Recipient email addresses are cryptographically hashed before transfer. Data can be stored in the US or in the EU.
Easy integration for all
Integration with on-premise MTA's and SMTP providers is a breeze with our server agents and webhook endpoints.
User driven development
We use the system ourselves and together with our customers we decide what features to add next.
---
How does Email Delivery Analytics work
Most senders have discovered data sources such blacklists, sender reputation, and inbox monitoring. But many are not aware how much information is hidden in their internal transaction data. Transient SMTP errors show reputation issues long before IPs are being blocked. Detailed bounce responses reveal why delivery rates are low.
The platform processes SMTP delivery data from on-premise mail servers and SMTP providers. Email addresses are anonymized so your data remains secure. It also reads data from Microsoft SNDS, Return Path Sender Score, and relevant blacklists. There's no need anymore to manually check a collection of deliverability tools.
Users can access an online dashboard to view reports. They also receive alerts by email in case of issues. In addition, our team of deliverability experts is available to provide support where needed.
---
Email Delivery Analytics already integrates with:

PowerMTA from Port25 is proven software for high-volume email delivery, and used by many ESPs. It is designed for optimal performance, manageability, and deliverability.

We provide a syslog server that receives log data from Postfix, correlates messages, and sends it to our platform in real time.

We provide a webhook endpoint that stores the data in our system and can be configured easily in SendGrid accounts.

We provide a webhook endpoint that stores the data in our system and can be configured easily in SMTP.com accounts.
---
Would you like more insight and stay ahead of delivery issues?