2018/04/10 by Willem Stam.
Delivery issues at LaPoste.net resolved
On Friday April 6, 2018, Postmastery's Email Delivery Analytics detected serious delivery issues at LaPoste.net. The most frequent SMTP errors we detected were:
421 4.3.2 No system resources
421 4.3.2 All server ports are busy
451 4.7.1 Service unavailable – try again later
421 4.7.0 lpn-prd-vrin0xx Error: too many errors
421 4.4.2 lpn-prd-vrin0xx Error: timeout exceeded
550 5.5.0 Service refuse. Veuillez essayer plus tard. Service refused, please try later. LPN007_519
We saw that some of our clients had delivery issues, caused by a bounce rate above 95% at laposte.net.
Laposte posted the following message on their website: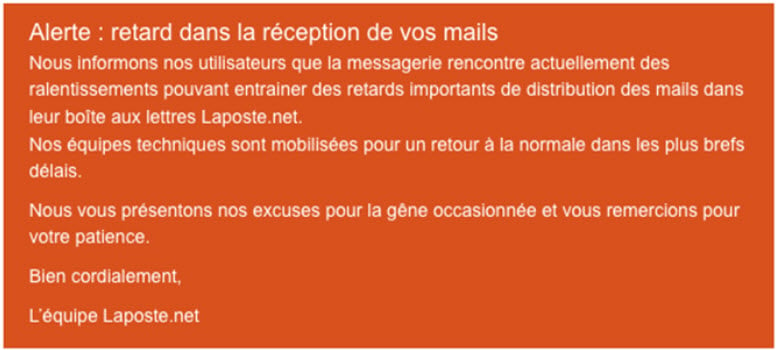 For non-French readers, this message reads:
"Warning: delay in receiving your emails. We inform our users that their email is currently experiencing slow-downs that could lead to significant delays in distributing emails in their Laposte.net mailbox.
Our technical team is working on this issue. We apologize for the inconvenience and thank you for your patience."
We noticed that while most marketing emails were refused, the more important messages were accepted.
Situation on April 25, 2018
On April 25, the situation returned to normal.
The incident is now said to be the consequence of an internal capacity issue.
Further updates
Postmastery will send updates on this issue in this blog post. If you need any assistance about delivery issues, just contact Postmastery via our website.