2018/06/11 by Olivier Moulene.
ISP information: Orange.fr
Postmastery assists various senders every day with delivery monitoring tools and consultancy services. In order to assist the global email senders community, we are happy to share some ISP specific information we collected over the last few years. This blog post looks at some more details, this time related to Orange.fr.
Orange: the biggest French ESP
Orange, with more than 40% market share, is the biggest French ISP. Its webmail is also one of the most used in France, just behind hotmail/outlook.com and gmail.com.
To protect its messaging infrastructure, Orange relies on Cloudmark Antispam Solution.
Orange also uses solutions provided by Vade Secure for dynamic spam filtering.
Complaint feedback loop
Since 2013, Orange has partnered with Signal Spam to provide complaint and spam trap hit counts to senders who are members of the Signal Spam network.
Signal Spam is a public-private partnership that allows users to report anything that they consider to be spam. It aims to develop a trustworthy network (emailing professionals and institutional contributors) to fight spam.
This 'Aggregated Complaint Feedback Loop' is an effective tool for senders to closely monitor their reputation toward Orange.
How does it work?
Aggregated complaint volumes per IP address and spam trap hits are provided to registered senders every day who download them as CSV files. Spam traps at Orange are exclusively made of unused 'recycled' addresses.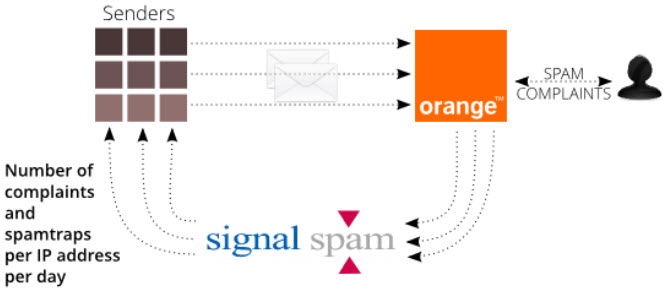 This service, which is also available for SFR and laposte.net, is reserved exclusively for Signal Spam members. For more information just connect to SignalSpam.
SMTP tweaks
Orange domains all have the same MX record which is smtp-in.orange.fr. Orange allows up to two concurrent connections per IP to its MX and up to 1,000 connections per hour. If over 100 emails are to be sent, they advise sending them by open connection whenever possible.
Common error messages
The following are some sample error messages denoting a greylisting issue at Orange.
421 xxxxxxxxx ME Service refuse. Veuillez essayer plus tard. Service refused, please try later.
OFR_999 [999]
550 xxxxxxxxx ME Service refuse. Veuillez essayer plus tard. Service refused, please try later.
OFR006_103
421 xxxxxxxxx ME Service refuse. Veuillez essayer plus tard. Service refused, please try later.
OFR005_107 [107]
When senders receive these messages, they should reduce the number of retries and throttle deliveries to Orange. Block related to cloudmark:
550 mwinf5c11 ME Adresse IP source bloquee pour incident de spam. Client host blocked for spamming issues. OFR006_102 Ref http://csi.cloudmark.com/reset-request/?ip=AAA.BBB.CCC.DDD
Links provided within these error messages allow senders to ask for mitigation.
Abuse Desk
If a problem occurs, Orange has an efficient abuse desk that handles questions related to email deliverability on its infrastructure. The contact address is abuse@orange.fr. When contacting them, be sure to include the following information:
– date of occurrence of the problem
– the machine's IP
– machine Host name
– email From domain
– SMTP code sent by Orange
For more information on how Postmastery can help, just send us a message via our website.