2019/05/16 by Willem Stam.
Brand Indicators for Message Identification (BIMI) ready for take off?
BIMI is the new open standard to visualize your brand in the recipient's mailbox with an image.
Why BIMI?
The new standard makes use of DMARC, leading some to call BIMI "DMARC 2.0". While almost all previous authentication and identification methods work in the background, BIMI is the first one that really tries to visualise and strengthen your brand right on the front-end. The mailbox provider will show your branded image within the user interface.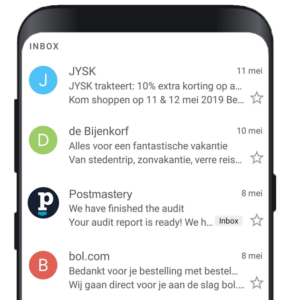 What are the prerequisites?
In order to enable BIMI you have to make sure the following requirements are in place.
You need to have a DMARC record with a 'quarantine' or 'reject' policy.
You need to be recognised as bulk sender and have a good sender reputation.
You need a DNS record, the so-called BIMI Assertion Record. This record will contain the link to the image (SVG format) that is going to be used. This TXT record needs to be placed as (for example) default._bimi in the DNS of the sending domain. Usually this would be the From header. The value of the record looks like:
v=BIMI1; l=https://www.example.com/images/logo.svg;
This should be enough for now. But it the future you may need to certificate the image. Otherwise anyone could publish someone else's logo on their domain. The providers require the certificate to prove ownership of the domain name. The proof is held and secured (cryptographically) by third parties referred as Mark-Verifying Authorities.
Who is supporting BIMI?
It's currently only supported by OATH (Yahoo & AOL, they will identify domain brands automatically) and Verizon. But we recently heard at the CSA in Cologne, that Gmail has joined the working group. It is not yet clear whether they will actually support it in their client.
Microsoft seems to be going in another direction and will not use the BIMI standard. Instead they are going to use so-called business profiles, see business.microsoft.com. It's in beta testing at the moment and is publicly available for any consumer-facing business in the US.
And, will BIMI take off?
Since Gmail is not supporting them and Microsoft is following a different strategy the impact will be limited. Nevertheless we think that is good to start with BIMI tech-preparations and testing.
More information?
We will be testing BIMI support with a few brands. Stay tuned for the results. And if you have any questions, just contact us.