2014/04/24 by Jérôme Gays.
PowerMTA: Why to choose PowerMTA for in-house email deliverability?
So you decided to take the path of in-house deliverability (see our article regarding this topic), but there is one more thing to think about: Which is the sending solution to pick out from the others? By Postmastery, we made up our mind and decided — as well as becoming both an authorized retailer and integrator — to privilege PowerMTA; a Sparkp0st-edited solution since 1999.
PowerMTA currently enables most of the biggest international ESP; it is a rock-solid solution, which had succeeded all tests.
If we decided for the PowerMTA implementation (we could have chosen a free solution like Postfix, for instance) it is because we want to provide our customers with its richness and expertise in the deliverability management arena. Sparkpost follows with excellence the latest trends regarding deliverability and keeps itself at the pinnacle of innovation.
Authentication And Data Flows Management
DomaineKeys-helped email authentications as well as DKIM standard have become an essential factor in order to grant the safety of your emails throughout their sending. With PowerMTA on your side you are a 100% sure of the quality of your outgoing emails. Using the 'Guaranteed Authentic' mode your queued email signature matching is analyzed and warnings are set off in case of failure.
On top of the authenticating management, the Sparkpost-edited MTA enables you to manage an unlimited IP addresses number divided among the different virtual MTA. Being this flexible, you are able to chirurgical-manage your sending infrastructure. For instance, if you have to manage an uneven email flow, you would have the opportunity to assign different resources such as IP addresses, sending speed, simultaneous connection, bandwith, etc…, according to the importance attached to each message category.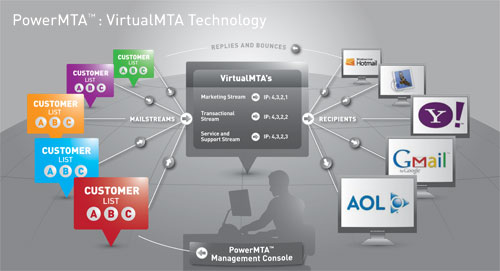 Connectivity Management
Deliverability is rocket-space science; each destination — Webmails or ISP — requires specific settings. Regardless of the sent emails number per minute, the e-reputation evolution speed or the number of simultaneous connections, every single one of them has its own process. Because of this, PowerMTA provides you the possibility of achieving extremely precise connectivity settings.
One clear example is adapting the below-listed different settings by domain/destination:
Number of simultaneous connections.
Sent messages per connection.
Sending attempts per hour.
'Retry' maximal length.
Authentication procedures.
As we said before, all this settings may be adjusted through virtual MTA's. For instance, for the AOL destination, you will enable twice the simultaneous connections for your transactional emails, hence granting you much faster confirmation-email deliverability (and let's face it, they are a key factor for businesses) than that of your newsletters.
Postmastery Follow-Up
The first advantage of the PowerMTA-based deliverability follow-up is that it enables you to explore an utter SMPT log file. It is a key factor that once you have mastered it, it will allow you to deeply analyze the source of any upcoming deliverability failure.
On the other hand, PowerMTA will tool you up to follow your deliverability by destination, campaign or virtual MTA:
Real time bounces classification.
Statistic-analyzing tools in command line.
Web-interfaced stats board.
Multi format log export management (XML, CSV, HTML, etc).
API empowering you to connect your logs to your own analyzing system.
This solution includes built-in main feedback loops in order to efficiently manage the user's spam complaints.
Customizing And Integration
Far beyond your email deliverability, PowerMTA presents a wide range of solutions in order to perform a do-it-your-way email managing. Plus the classic SMPT relay and file drop-off into directory, many API have been developed, enabling you to send your messages regardless of the ongoing programming language (C, C++, C#, Java, Perl,…).
To this rather flexible message-sending processes are added data-merging features in order to customize your messages and to reach your marketing members expectations.
Free PowerMTA Trial
Talking about performance, PowerMTA is selled into 2 versions: standard and business. Standard version enables you to send 100 000 emails per hour, while the business version may go up to
1 000 000 emails per hour.
Postmastery proposes a free PowerMTA trial. Check out the flexibility and performance of this tool before taking the decision of its integration for good.
Want to know more about different models licenses and integration solutions — install, settings, start-up — proposed by Postmastery, do not hesitate to contact us.